Ashaway Supernick XL Micro (1.15mm) Squash String Set
%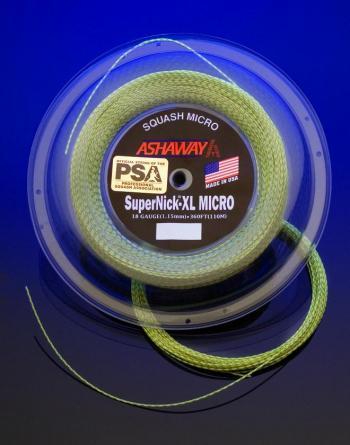 Ashaway Supernick XL Micro (1.15mm) Squash String Set
Ashaway has improved its SuperNick® XL Micro Squash string to provide increased durability, improved shot making, and stronger brand recognition. The original SuperNick XL Micro was a white, 18 gauge string, well regarded among top amateur players for its resiliency and ball control. In the new SuperNick XL Micro, Ashaway has modified the string's unique construction of nylon multifilament core and double-braided multifilament jacket. The increased linear density of the finished string results in superior durability for an 18 gauge string, while still providing gut-like performance and excellent playability at lower tensions.
Also new to SuperNick XL Micro is a textured surface like the other standard 17 gauge SuperNick XL products. This textured surface allows for optimum shotmaking and excellent ball control. In addition, the new SuperNick XL Micro has a unique and very distinctive bright yellow colour with the trademark red and blue SuperNick XL crossing pattern embedded in the string to make it easily recognizable as a member of the SNXL family of squash strings.

SuperNick XL Micro squash string is recommended for all styles and levels of play, and for players looking for improved feel and control of the ball. SuperNick XL Micro is available in both 9m sets and 200m reels. Recommended stringing tension is up to 35 lbs.

Delivery

We ship worldwide and offer a range of delivery options. Delivery charges depend on your delivery country. View our Delivery Information page for full details.

Returns

Tennisnuts.com makes every effort to ensure each customer experiences a flawless shopping experience. Sometimes you may wish to return your order for which you may need to refer to our simple returns policy.