Badminton Indoor Shoes
We stock the largest range of specialist badminton shoes in the UK and Europe and we offer competitive, low prices and fast, reliable UK and International Delivery. We stock all of the major brands, including Yonex, Victor, Li-Ning, Babolat, Asics, Salming & Adidas, often with exclusive early access.
For badminton you need lightweight shoes with plenty of support, but most importantly you need good grip. Yonex, as the worldwide badminton brand leader make the widest choice of badminton shoes, followed by Babolat, who have utilise some of the best technologies from their expertise in making tennis shoes to now producing some fantastic badminton shoes.
Shop by Brand
Badminton shoes need to be light and flexible, while still providing plenty of support and maximum shock absorption. The most important aspect is the grip that you get with the "gum sole". All the shoes that we stock have this in common and are suitable for both badminton and squash.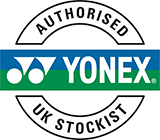 Tennisnuts is an authorised Yonex UK stockist.