Yonex Badminton
We are the premier authorised Yonex UK stockist for Yonex badminton products, giving us early access to new products and exclusive deals from Yonex themselves. Additionally, this means all of our Yonex products are 100% genuine products. We have an extensive range of Yonex badminton rackets, indoor court shoes, clothing, bags, strings and grips, designed to help give you 110%.
Yonex Badminton are the leading badminton brand, used worldwide by singles and doubles professionals, including the legendary Lin Dan and Lee Chong Wei, as well as British stars Gabby Adcock, Chris Adcock, and Rajiv Ouseph.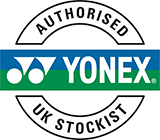 Tennisnuts is an authorised Yonex UK stockist.
Click on the badge or on this link for more information.
Beware of counterfeit rackets on the internet. We have had instances of people bringing in counterfeit rackets for restringing at our store, which look almost like the real thing but go out of shape as soon as you put any kind of tension on the frame.