The Best Place and Method of Storing Feather Shuttlecocks:
We have over 30 years of experiance of handling feather shuttlecocks, not just from supplying the majority of badminton clubs in the London area, but also having been involved in a number of badminton clubs and Middlesex County badminton.
The best place to store badminton shuttlecocks is in any cool, dry place. In most houses, this is generally in the cupboard under the stairs. Central heating is the worst enemy for feathers and can easily dry out shuttlecocks, making them really brittle, so they break quicker. Another common mistake that people make is to keep them in the car boot or in a garage, where the frost can get to them, which is also no good.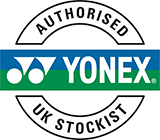 Tennisnuts is an authorised Yonex UK stockist.
Click on the badge or on this link for more information.
Beware of counterfeit shuttles on the internet. We have had instances of people bringing in counterfeit shuttles for inspection at our store, which look almost like the real thing but go out of shape and fly incorrectly as soon as you use them.