Yonex Tennis Store
Yonex have become one of the biggest brands in tennis by creating high quality rackets, strings, apparel, footwear. Pro players who rely completely on Yonex for their equipment and gear include Stan Wawrinka.
Continually innovating with game-changing technologies such as Aero-Fin (featured in VCore SV rackets) and Power Cushion, those who try the brand rarely turn back. We specifically recommend the tournament clothing which is made from UV reducing, anti-static material - two things any tennis player could wish for.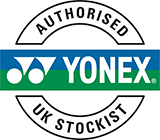 Tennisnuts is an authorised Yonex UK stockist.
Beware of counterfeit rackets on the internet. We have had instances of people bringing in counterfeit rackets for restringing at our store, which look almost like the real thing but go out of shape as soon as you put any kind of tension on the frame.