Badminton Rackets
Selecting the right badminton racket can often be tricky. In order to make this process easier, we have created a guide on "How to Choose a Badminton Racket". Once you have read the guide, you can search via the filters below, allowing you to select your preferred 'balance' and 'flex' so that you can compare rackets within each combination. Once you have chosen your racket, you may wish to choose a string upgrade. To help you decide whether you need a string upgrade, check out our guide on 'How to Choose a Badminton String'.
Additionally, select rackets have been reviewed by Richard Doling, a Badminton England World Class Performance Coach. You can find out more about Richard and the rackets he has tested here.
At TennisNuts, we stock all of the major brands (such as Yonex, Victor, Li-Ning and Babolat), often with exclusive early access. All of our rackets are priced extremely competitively, and, in addition to this, we have hundreds of clearance bargains, leaving you with a huge variety of racquets to pick from. You can follow the links below to browse rackets by their weight distribution, filter our entire collection by 'balance', 'flex' and 'weight', or follow one of the links on the right to shop our wide selection of rackets by brand.
We offer a FREE String Upgrade on a wide variety of Yonex and Victor performance rackets and a Half-Price String Upgrade on most other all graphite badminton rackets.
Shop by Brand
Looking for a fantastic selection of badminton rackets (racquets) at bargain prices? Most of our rackets are AT LEAST 15% of the retail price (RRP). Many of them are at special offer or clearance prices of up to 50% off the rrp.
We also get useful input from our 'contracted terms coaches' who try rackets from their particular contracted manufacturer. We are also well known in the U.K for being a genuine badminton specialist, not just a new internet business selling a few clearance items. We have a store within the M25, a mail order arm, a warehouse, and this website. We aim to sell all our rackets at a genuine discount but we also have a number a half price or clearance items at any given time.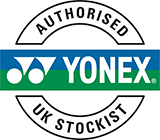 Tennisnuts is an authorised Yonex UK stockist.
Beware of counterfeit rackets on the internet. We have had instances of people bringing in counterfeit rackets for restringing at our store, which look almost like the real thing but go out of shape as soon as you put any kind of tension on the frame.