Badminton Rackets
Selecting the right badminton racket can often be tricky. In order to make this process easier, we have created a guide on "How to Choose a Badminton Racket". Once you have read the guide, you can search via the filters below, allowing you to select your preferred 'balance' and 'flex' so that you can compare rackets within each combination. Once you have chosen your racket, you may wish to choose a string upgrade. To help you decide whether you need a string upgrade, check out our guide on 'How to Choose a Badminton String'.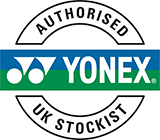 Tennisnuts is an authorised Yonex UK stockist.
Click on the badge or on this link for more information.
Beware of counterfeit rackets on the internet. We have had instances of people bringing in counterfeit rackets for restringing at our store, which look almost like the real thing but go out of shape as soon as you put any kind of tension on the frame.