Thorlo Thin Cushion Micro-Mini Crew Tennis Socks (1 Pair) - White/Pink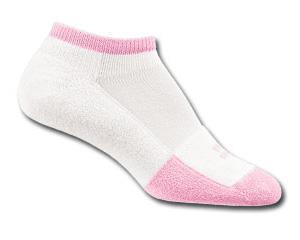 Thorlo Thin Cushion Micro-Mini Crew Tennis Socks (1 Pair) - White/Pink
While we recommend our thick protection Thorlos to everyone for maximum protection and comfort, we recognize some activities place much less stress on the foot.

We also realize that many younger activity enthusiasts prefer to actually 'feel more of the road' as they run or 'feel of the court' as they play tennis. For these customers, Thorlos make a thin cushioned sock that provides more protection and comfort than any other thin sock on the market.

Coolmax® construction wicks moisture better; feet feel cooler
Thin cushioning in ball/heel for more blister protection than any other thin sock product on the market today
Thin cushioning over toes for protection against sudden stops and starts
Thinner cushioning in arch for better fit and support

Delivery

We ship worldwide and offer a range of delivery options. Delivery charges depend on your delivery country. View our Delivery Information page for full details.

Returns

Tennisnuts.com makes every effort to ensure each customer experiences a flawless shopping experience. Sometimes you may wish to return your order for which you may need to refer to our simple returns policy.