Yonex Tennis Rackets
Yonex is continually innovating with game changing technologies such as Aero-Fin (featured in VCORE SV rackets) and Power Cushion, which is precisly why those that try the brand rarely turn back. Known for detailed design, all of the top end Yonex rackets are designed and made in Japan. The graphite technology is renowed for high quality production values and is widely used in the production of tennis rackets.
There are three major Yonex ranges: EZONE, VCORE and VCORE Pro. The EZONE is friendly and powerful, the VCORE has a crisp feeling and is loaded with spin, while the VCORE Pro has the most feel and control.The Yonex EZONE is currently endorsed by rising star Naomi Osaka, whilst 'Stan the Man' (Stan Wawrinka) uses the VCORE Pro. Other pro players currently sponsored by Yonex include Angelique Kerber, Francis Tiafoe, Nick Kyrgios, Denis Shapovalov, Caroline Garcia, Steve Johnson and many others. In addition to that, numerous grand slams and champions such as Martina Navratilova, Monica Seles, Arantxa Sanchez-Vicario, Martina Hingis, and Richard Krajicek are part of Yonex' history.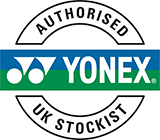 Tennisnuts is an authorised Yonex UK stockist.