Yonex's new EZONE range features Nanometric DR, a material developed by Toray Industries for spacecrafts. Applied to the racket, this material increases ball speed by 7% compared to graphite only constructions. This is achieved by increasing the flexural strength by 15% over graphite only frames. The result is that get a racket that flexes more and snaps back quicker for dynamic power and better stability. Yonex EZONE also include the fantastic Quake Shut Gel Air and Shockless Grommet System to minimise muscle fatigue and absorb impact shock.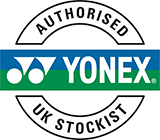 Tennisnuts is an authorised Yonex UK stockist.
Click on the badge or on this link for more information.
Discover the perfect tennis fashion for men and women at Tennisnuts:
Tennis is a sport that requires a great deal of physical fitness and mental agility. As such, it's important to have the right outfit in order to perform well. The best tennis clothes for men and women should provide a balance of style and comfort. Choose lightweight, breathable tops that wick away sweat, and bottoms with a comfortable fit that allow for unrestricted movement. For chilly days, opt for long-sleeved tops with lightweight fabrics to keep you warm without becoming too heavy.
Complement your wardrobe with appropriate street or court shoes, and don't forget the appropriate socks for your feet to avoid blisters. To keep the sun out of your eyes, a tennis cap or visor can finish off your look. With the right tennis clothing, you'll look and feel your best while taking centre court.