Yonex EZONE Tennis Rackets
Introducing Yonex EZONE, created to update and continue the outstanding success of the EZONE AI and EZONE DR ranges. Yonex EZONE includes an updated Isometric head shape, which provides a larger sweetspot than previous editions. Additionally, Yonex have introduced Micro Offset Layout technology to the grommet system, providing players with more comfort by allowing the strings to absorb greater vibration at impact. Yonex have also introduced Hyper-MG, an ultra firm hyper modulus graphite to reinforce the upper hoop. This results in less frame bending at impact, providing more power for strokes.
Yonex's new EZONE range features Nanometric DR, a material developed by Toray Industries for spacecrafts. Applied to the racket, this material increases ball speed by 7% compared to graphite only constructions. This is achieved by increasing the flexural strength by 15% over graphite only frames (6.5% over EZONE AI range). The result is that get a racket that flexes more and snaps back quicker for dynamic power and better stability. Yonex EZONE also include the fantastic Quake Shut Gel Air and Shockless Grommet System to minimise muscle fatigue and absorb impact shock.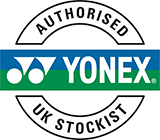 Tennisnuts is an authorised Yonex UK stockist.