Yonex VCore Rackets - Pro, Duel G & SV
VCore is the 3D Vector Shaft technology which improves the stiffness of these rackets, and reduces twisting. This gives them 20% more stability than the standard racket, leading to greater control and precision.
The VCore Pro range is designed for hard hitting players, like Stan Wawrinka, to get control and accuracy on their shots.
The VCore SV is engineered to improve spin and swing speed using the added Aero Fin technology, and is endorsed by Angelique Kerber.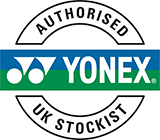 Tennisnuts is an authorised Yonex UK stockist.