Yonex VCORE Tennis Rackets
The new 2023 model, now in the 7th generation is a true work of art, combining technology and craft. It provides undeniably precise spin and remarkable control. The new colours add a striking look to those flashing top spinners.
The latest VCORE range is Yonex's most powerful range of tennis rackets, offering more spin and power, and focuses on allowing you to rapidly move from defence to offense by letting you hit penetrating, high-trajectory spin balls when needed. This range is perfect for the modern tennis player that wants to maximise spin potential.
NEW TECHNOLOGIES:
1. New silicone oil infused within the grommet allows the racquet to quickly flex and snapback into its original position.
2. A wider frame at 2 o'clock & 10 o'clock position increases the ball contact area, which produces a higher launch angle.
3. New throat design provides "torsional resistance" which helps stabilize the racquet, reducing power loss.
4. 2G-NAMD™ FLEX FORCE....FOR AGGRESSIVE, ATTACKING SPIN: Incorporated in the upper throat to the lower frame, new Flex Force graphite allows for the racquet to quickly flex and snapback for maximum spin potential.
5. Yonex's Aero Fin and Aero Trench technologies allow the VCORE frames to slip through the air with minimum resistance for faster, spin-loaded play. A dampening mesh in the frame gets rid of any unwanted feedback.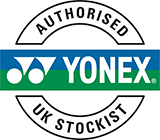 Tennisnuts is an authorised Yonex UK stockist.