Yonex VCore Tennis Rackets
Welcome to the new shape of spin. Yonex VCORE takes the very latest in Yonex's innovative technology and combines it with a new type of tennis racket that gives you easier access to spin than ever before. The latest VCORE range is Yonex's most powerful range of tennis rackets, offering more spin and power, and focuses on allowing you to rapidly move from defense to offense by letting you hit penetrating, high-trajectory spin balls when needed. This range is perfect for the modern tennis player that wants to maximise spin potential.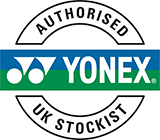 Tennisnuts is an authorised Yonex UK stockist.