Yonex Tennis Clothing & Accessories
Yonex have been providing some of the worlds best athletes with top of the range sporting equipment for over 50 years. Now, they are using their extensive knowledge of the industry to produce high quality apparel for tennis players. Their clothing range is favoured by many top tennis players including 2015 French Open winner 'Stan the Man'- Stan Wawrinka. Who can forget the shorts that Stan wore while winning the French Open?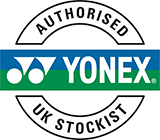 Tennisnuts is an authorised Yonex UK stockist.