POWER CUSHION
An egg dropped onto the Power Cushion bounces back undamaged. Power Cushions first absorb shock before transferring it to leg muscles. Then, instantly, they release the shock energy to transfer you smoothly into your next move.
ROUND SOLE
The YONEX Round Sole, positioned on the side and heel of the shoe, provides more comfort while maximising the transfer of body energy into every shot. Unlike the hard edge of conventional shoes, which makes maximum transfer of body energy into shots difficult, the YONEX Round Sole prevents unstable landings, ankle strain, and energy loss, producing quick and smooth footwork with greater power.
POWER GRAPHITE LITE
Integration of a Power Graphite Plate and a Solid EVA material prevents lateral movement of the foot inside the shoe during quick side steps. The construction provides firm support that backs up aggressive athletic performance.
POWER CUSHION INSOLE MC
Power Cushion Insole MC extends support inside the shoe to check lateral movement. With no lateral movement to diminish power, more speed and power are transferred into your movements.
TOUGH GUARD III
3 times stronger than ordinary synthetic leather. In addition to high strength, it has excellent resistance to heat, for added long-wearing performance.
SUPER ERGOSHAPE
The Super Ergoshape maximises forefoot and toe comfort. The narrower heel and instep area provides firmness for comfortable play.
DOUBLE RUSSEL MESH
The ultra-fine mesh of this extremely lightweight and durable fibre structure provides eight times more air-exchange for releasing moisture than ordinary mesh.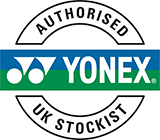 Tennisnuts is an authorised Yonex UK stockist.