Yonex EZONE Tennis Rackets
The Yonex Ezone range appeals to players looking for exceptional feel while getting plenty of power from the slightly thicker frames. The Japanese graphite construction provides the solid feel and leads to one of the most vibration dampening frames around. A variety of weights and head sizes are available. The choice of Naomi Osaka and Nick Kyrgios.
EZONE racquets offer thicker beams for easier power, a heavier Tour model for advanced players and a value option for savvy bargain hunters. You'll also find larger head sizes for the improving player who wants user-friendly access to power and spin. No matter which model you choose, the EZONE family will help you control the action with higher levels of pace and spin.
Yonex's new EZONE range features Nanometric DR, a material developed by Toray Industries for spacecrafts. Applied to the racket, this material increases ball speed by 7% compared to graphite only constructions. This is achieved by increasing the flexural strength by 15% over graphite only frames . The result is that get a racket that flexes more and snaps back quicker for dynamic power and better stability. Yonex EZONE also include the fantastic Quake Shut Gel Air and Shockless Grommet System to minimise muscle fatigue and absorb impact shock.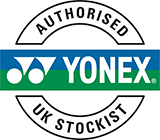 Tennisnuts is an authorised Yonex UK stockist.