The Percept racket is full of new technology such as:
Accurate Sensory Feedback - The new SERVO FILTER reduces unwanted vibrations while continuing to transmit the essential vibrations that provide valuable feedback about the ball.
Improved Ball-Pocketing - The FlexCon System allows the racquet shaft to flex and extend the ball pocketing duration, making it easier for players to control and place the ball accurately.
Stable Ball Trajectory - The frame features more layers* of graphite to increase rigidity of the racquet face. This stabilizes the face at impact and brings consistency to desired ball trajectories.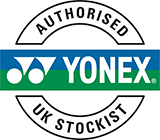 Tennisnuts is an authorised Yonex UK stockist.
Click on the badge or on this link for more information.
Discover the perfect tennis fashion for men and women at Tennisnuts:
Tennis is a sport that requires a great deal of physical fitness and mental agility. As such, it's important to have the right outfit in order to perform well. The best tennis clothes for men and women should provide a balance of style and comfort. Choose lightweight, breathable tops that wick away sweat, and bottoms with a comfortable fit that allow for unrestricted movement. For chilly days, opt for long-sleeved tops with lightweight fabrics to keep you warm without becoming too heavy.
Complement your wardrobe with appropriate street or court shoes, and don't forget the appropriate socks for your feet to avoid blisters. To keep the sun out of your eyes, a tennis cap or visor can finish off your look. With the right tennis clothing, you'll look and feel your best while taking centre court.