Yonex Men's Tennis Clothing
The Yonex very cool line-up is the coolest sportswear on the market. Thanks to the cooling effect of Xylitol, a natural material that absorbs the heat of perspiration , very cool polo shirts lower body heat by 3 degrees centigrade - improving comfort during the heat of play.
In addition to the inherent cooling and soothing effect of Xylitol, Very Cool polo shirts have ultraviolet and infrared filtering functions.
Helping to reduce heat build-up during physical activity by intercepting 96% of UV radiation and 81% of IR radiation, Very cool's mesh material further provides effective ventilation performance.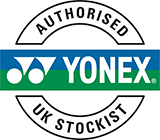 Tennisnuts is an authorised Yonex UK stockist.