Yonex Badminton Rackets
With the recent addition of Lee Yong Dae and Yoo Yeon Seong to the stable of pro players worldwide using Yonex Badminton rackets to winning effect, Yonex badminton rackets still dominate the market. Their other big players include Lin Dan, using the Voltric Lin Dan Force; Lee Chong Wei, who uses the new innovative Duora 10; Viktor Axelsen, who uses the Duora Z-Strike; and Carolina Marin who leads Women's badminton using the agile Nanoray Z Speed. Yonex Badminton are the market leading brand with racquets not just at the premium end, but also a number of new models that are very competitively priced. All top-end Yonex Badminton rackets (usually over RRP £140) are also designed and made in Japan, with all that entails in attention to detail and production values.
We offer a FREE restring on all Made in Japan Yonex Badminton Rackets and a Half-Price Restring on all other full graphite Yonex Badminton Rackets!
YONEX PRODUCT RANGE
Voltric: Yonex's Head-Heavy balance series, headed by the flagship Z-Force II, endorsed by Lin Dan.
ArcSaber: Yonex's classic Even-Balance series, headed by the fantastic ArcSaber 11.
Nanoray: Yonex's Head-Light series, designed for doubles players because of the incredibly fast frames.
DUORA: The new innovative even-balance range from Yonex, combining two different frames into one racket. Headed by the DUORA 10, endorsed by Lee Chong Wei, and the DUORA Z-STRIKE, endorsed by Viktor Axelson, the DUORA series looks set to take over in the badminton world, as more and more singles and doubles professionals are beginning to use rackets in this series, including Srikanth Kidambi, Rajiv Ouseph, Lee Chong Wei and Mathias Boe.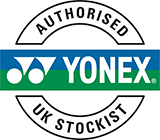 Tennisnuts is an authorised Yonex UK stockist.