Top 10 Best Yonex Badminton Rackets
As the premier authorised Yonex UK stockist, we stock almost all Yonex badminton rackets, and we know it can be difficult and time-consuming to pick the right racket for you. Therefore, to help you decide, we have listed our Top 10 Best Yonex Badminton Rackets, based on our playing expertise and long partnership with Yonex.
If you're still unsure after seeing our choices, why not have a look at our guide on How To Choose a Badminton Racket?
Once you have chosen your racket from us, we can also provide you with a custom string upgrade, so that when you receive your racket from tennisnuts.com, it will already be strung with your favourite string and tension, ready to be used on the court immediately. If you're unsure which string and tension you would like, or want more information about strings in general, why not check out our guide on How to Choose a Badminton String? And best of all, we offer a FREE String Upgrade on most Made in Japan Yonex Badminton Rackets and a Half-Price String Upgrade on all other full graphite Yonex Badminton Rackets!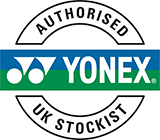 Tennisnuts is an authorised Yonex UK stockist.
Click on the badge or on this link for more information.
Beware of counterfeit rackets on the internet. We have had instances of people bringing in counterfeit rackets for restringing at our store, which look almost like the real thing but go out of shape as soon as you put any kind of tension on the frame.