Yonex Astrox Badminton Rackets
Pre-Order Yonex Astrox 88S and Yonex Astrox 88D now at tennisnuts.com!
Introducing Yonex Astrox; the latest range from Yonex. Designed to update the Voltric series, Yonex Astrox rackets are head-heavy and aimed at players that seek as much power as possible. However, Yonex Astrox rackets, while maintaining the power of the Voltric series, provide more speed and acceleration thanks to a new type of graphite material; Namd. Namd graphite attaches nanomaterial directly to the graphite fibre, allowing the shaft to flex according to each player's swing-speed, ensuring that the racket adapts to you, rather than you adapting to the racket. The Namd graphite shaft also snaps back quickly during the follow-through, allowing the energy stored in the shaft to explode rapidly, providing increased power, while returning to its original form quicker than a Voltric racket, ensuring that players can play continous, fast strokes and transition between shots seamlessly, maintaining momentum in fast exchanges. Make sure to view our range of Yonex Astrox Badminton Rackets below, from tennisnuts.com, the Premier Yonex UK Authorised Stockist!
Love the sound of Yonex Astrox but unsure which racket to choose?
AX77: Head-heavy and medium flex makes the Astrox 77 an excellent all-rounder; plenty of speed and lots of power. Go for 3U if you want more distance on your clears, go for 4U if you want extra speed in the mid-court.
AX88S: Moderately less head-heavy than the AX77 but with a stiffer shaft makes the Astrox 88S the perfect choice if you want extra accuracy and control but wish to maintain the power of a head-heavy racket. Aimed at front-court players that look to attack from all angles.
AX88D: Significantly more head-heavy and stiffer than the AX77. The AX88D is designed to help you smash, smash and smash. Go for this racket if you almost always play at the back of the court and look to be on the offensive at all times.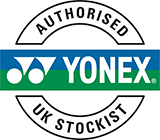 Tennisnuts is a Yonex UK authorised stockist.
Beware of counterfeit rackets on the internet. We have had instances of people bringing in counterfeit rackets for restringing at our store, which look almost like the real thing but go out of shape as soon as you put any kind of tension on the frame.