Junior Tennis Balls - Sponge, Red, Orange & Green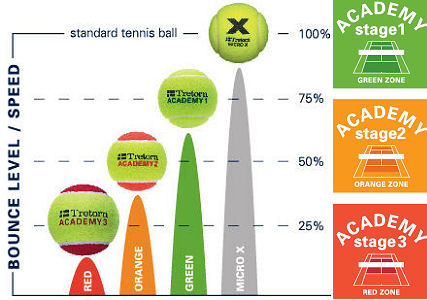 Mini Tennis Green. This is the final stage before children move to tennis. Played on a full size tennis court, the Mini Tennis Green ball is slightly lower bouncing than a normal tennis ball and helps the children to use good technique and rally consistently.
Mini Tennis Orange. This introduces children to playing on a 3/4 length tennis court. The low bounce Mini Tennis Orange ball slows the game down to a speed that gives players time to play good basic tennis shots and enables them to have maximum fun playing the game!
Mini Tennis Red. This is the first stage of Mini Tennis and is very important for building skills and confidence. The emphasis is on fundamental sporting skills such as movement and co-ordination.. and above all else fun!
Remember the more you buy the more you save.