Yonex Badminton Shuttles

What can we say about Yonex badminton Shuttlecocks? Simply the best shuttles that money can buy. Used at the All-England badminton championships and the Olympic games, not to mention the majority of badminton tournaments around the world. Our best-selling shuttle is the AS30 from the Aerosensa range, which is popular for its quality and price point.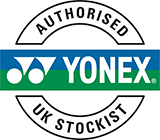 Tennisnuts is an authorised Yonex UK stockist.
Click on the badge or on this link for more information.
Beware of counterfeit shuttles on the internet. We have had instances of people bringing in counterfeit shuttles for inspection at our store, which look almost like the real thing but go out of shape and fly incorrectly as soon as you use them.