Bolle Tennis Sunglasses
Bolle Lens Types:
Click here for a comprehensive list of all Bolle lenses.
CompetiVision Gun Lens (Tennis) Bollé® CompetiVision® lenses are designed to mute every colour in the spectrum except optic yellow, making the tennis ball pop so you can react more quickly. Darker than the standard CompetiVision Lens, CompetiVision Gun features a flash metallic silver mirror that cuts through glare on the court in bright conditions.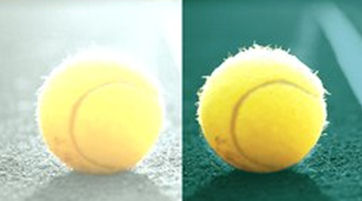 Bolle's patented COMPETIVISION , the most innovative sports technology , and the first and only sunglass that gives you 100% UVA and UVB protection while allowing you to see the ball better. The Competivision lens is THE tennis lens. High contrast teal tinted lens that mutes all colours except for optic yellow so ball stands out. The stark contrast between background and tennis ball makes the Competivision lens idea for watching as well as playing tennis.