Yonex Namd Badminton Rackets
What is it that makes Yonex Astrox Badminton Rackets so special?
It's Namd.
A new next-generation graphite, Namd is the real secret behind the brilliant playability of the Yonex Astrox range. Namd offers players two benefits; better energy transfer between player, racket and shuttle; and more consistent racket flex.
Firstly, Namd graphite has major improvements in how the graphite fibres are bonded, and therefore Astrox rackets are much better at reducing the energy loss between a player's swing and the shuttle connecting with the string-bed. In practice, this is as good as it sounds, as transferring more energy to the shuttle results in deeper clears and more powerful smashes, while asking for nothing extra from the player.
Secondly, Namd graphite in the shaft has a much more consistent flex than conventional graphite when players quicken their swing speeds (which occurs when players get ready to hit a smash). As players flex their rackets in anticipation of a smash, Namd graphite shafts will flex and begin to store energy from the player as they quicken their swing-speed. As soon as the stringbed has direct impact with the shuttle, players generally have a smaller follow-through and reduce their swing speed, which allows the shaft to harden and release the stored energy onto the shuttle, giving you a more powerful shot. This is particularly crucial when smashing, as players will quickly shift from a high swing-speed to a slow swing-speed. Effectively, NAMD graphite rackets feel stiffer when playing at the net and the mid-court, but feel more flexible when smashing, giving you the perfect mix. By comparison, other performance racket shafts will harden as the player quickens their swing-speed (ie. before contact with the shuttle), which results in a loss of the stored energy.
Although players can sometimes be skeptical about how the benefits of new technologies translate onto the court, during our testing we found that this gave us a noticeable improvement on the court, particularly when hitting clears and smashes in comparison to other high-end badminton rackets. Combine these unique qualities with all of Yonex's other technologies and expertise in badminton, and we found that this is a range of rackets that really does make a difference to our game. We have listed all of the Yonex Namd Badminton Rackets below, as these all feature Namd graphite technology. While 'Yonex Namd Badminton Rackets' isn't a range per se, it's clear to us at tennisnuts that Namd graphite is a superior graphite to the current conventional technology, and you should really consider choosing a racket that incorporates it.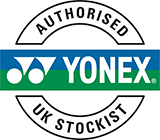 Tennisnuts is an authorised Yonex UK stockist.
Click on the badge or on this link for more information.
Beware of counterfeit rackets on the internet. We have had instances of people bringing in counterfeit rackets for restringing at our store, which look almost like the real thing but go out of shape as soon as you put any kind of tension on the frame.