Li-Ning Badminton Rackets
How to Choose a Li-Ning Badminton Racket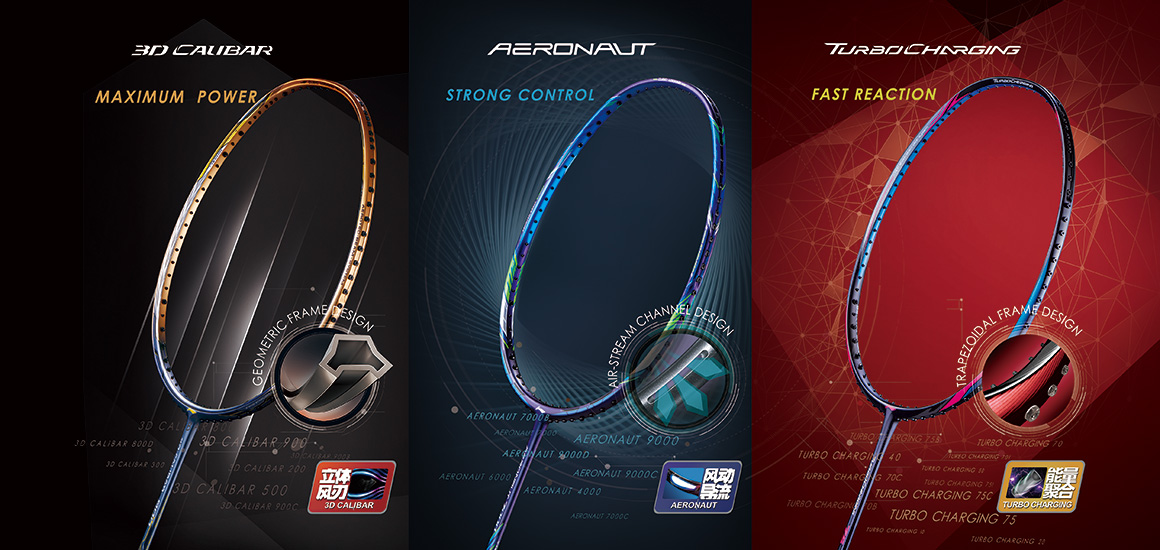 There are three parts in the name of each Li-Ning badminton racket to help you choose the correct one: the number of digits in the name (this denotes the type of frame being used), the first number (which denotes the performance level) and the letter at the end of the name (which denotes the style of the racket)
There are three ranges, based on the frame type: Turbo Charging, 3D Calibar (replaces 3D Breakfree), Aeronaut (replaces Airstream):
Secondly, the first number will allow you to determine if a racket is entry-level, intermediate level or performance level.
1,2,3 - entry level (previously known as the 'TF' series)
4,5,6 - intermediate level (previously known as the 'TD' series)
7,8,9 - performance level
Finally, each racket has a letter at the end of the model number; D, C, B or I. These are as follows:
D (Drive) - rackets for speed
C (Combat) - rackets for power
B (Boost) - rackets for balanced play
I (instinct) - lightweight rackets
For example, the Li-Ning 8000D can be broken down as follows:
Digits - There are 4 digits, therefore this racket has the Aeronaut frame.
First number - 8 - Therefore this a performance racket
Letter - The letter at the end is 'D', there this is a 'Drive' racket.