Yonex Voltric Rackets
Voltric rackets combine aerodynamic profile, thin shaft, head heavy balance and Tri-Voltage system in the frame to offer exceptional power as well as speed. Suited for aggressive players who rely on dictating rallies with offensive shots. All our Voltric racquets over £100 have FREE Options. Top of the range models feature a head heavy balance for extra power. The value models are more suited to beginners and intermediates as they are not as head heavy, but have enough weight in the head to help clearing and smashing from the back of the court.
The Voltric range also contains the DG type of High tension frames from Yonex.
Expert Opinion: This range offers particular help from the back of the court for powerful clears and smashes.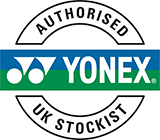 Tennisnuts is an authorised Yonex UK stockist.
Click on the badge or on this link for more information.
Beware of counterfeit rackets on the internet. We have had instances of people bringing in counterfeit rackets for restringing at our store, which look almost like the real thing but go out of shape as soon as you put any kind of tension on the frame.