Yonex Nanoray Rackets
Nanoray marks the newest chapter in Yonex's tradition of producing the fastest badminton rackets to match the speed of the sport. The fundamentals of the Nanospeed series are pushed to the next level with the introduction of Aero Frame (sleek, streamlined) cuts effortlessly through the air to give unrivalled speed while the fantastic X-FULLERENE shaft provides increased control and boosts power.
Expert Opinion: Best bet for fast doubles play as the rackets have a head light balance and have a good range of different stiffness levels to suit a wide variety of different styles and abilities. Convert your opponents shots into fast, deep returns - even with the shortest of swings.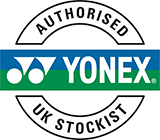 Tennisnuts is an authorised Yonex UK stockist.
Click on the badge or on this link for more information.
Beware of counterfeit rackets on the internet. We have had instances of people bringing in counterfeit rackets for restringing at our store, which look almost like the real thing but go out of shape as soon as you put any kind of tension on the frame.