Tourna Tac Overgrips (Pack of 10) - White
%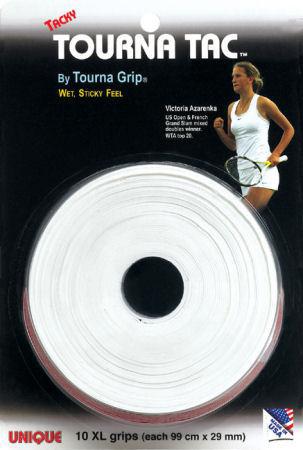 Tourna Tac Overgrips (Pack of 10) - White
Tourna Tac Overgrips (Pack of 10) - White
Product code: RSA10710W
This item has now been discontinued
The Tournagrip Tourna Tac XL Overgrips is new from Tournagrip, it is super absorbent for a comfortable dry feel. The grip is designed to be extra long perfect for longer handled rackets. A non slip surface means you have a firmer hold on the handle, a tacky feel offers excellent grip, designed for a fast response performance.

New from Tournagrip
Extra length for rackets with longer handles
Recommended if you have double-handed groundstrokes
Non-slip, tacky grip, ideal for cool, non-humid conditions
Super absorbent
Economy pack of 10

Delivery

We ship worldwide and offer a range of delivery options. Delivery charges depend on your delivery country. View our Delivery Information page for full details.

Returns

Tennisnuts.com makes every effort to ensure each customer experiences a flawless shopping experience. Sometimes you may wish to return your order for which you may need to refer to our simple returns policy.