Nick Bollittieri DVD - Tenacious Net Play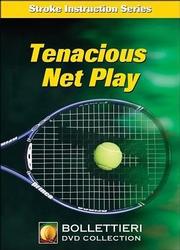 Nick Bollittieri DVD - Tenacious Net Play
Playing aggressively at the net requires anticipation, good preparation, and proper technique on approach shots, volleys, half volleys, and overheads. Nick shows you the skills and strategies of the attacking player, helping you shape the mentality required to dominate the net. Learn the shot selection patterns and combinations that will make you much more effective as a forcing player.

Part of the 10-disk Bollettieri DVD Collection, Tenacious Net Play is one of six DVDs that focus on superior technique for the essential strokes.

Delivery
We ship worldwide and offer a range of delivery options. Delivery charges depend on your delivery country. For full details of our delivery policy, click here.

Returns
Tennisnuts.com makes every effort to ensure each customer experiences a flawless shopping experience. Sometimes you may wish to return your order. Tennisnuts.com has a simple returns policy which can be read here.