Squash Instruction Book - Steps to Success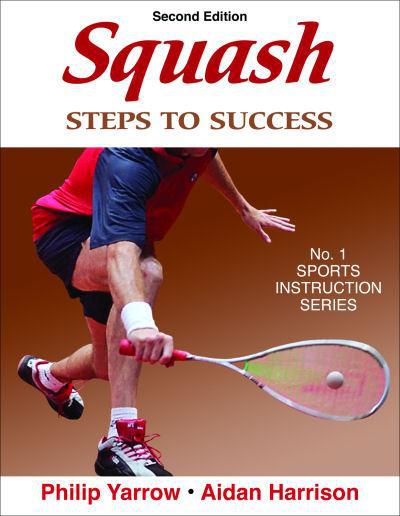 Squash Instruction Book - Steps to Success
Learn the fundamentals and enjoy competing in this fast-paced tactical game. Whether you already play squash or are just starting out, Squash: Steps to Success will teach you the skills and strategies you need in order to play and win.

With 13 progressive instructional steps, you'll learn all aspects of the game. Detailed descriptions, illustrations, and photo sequences demonstrate essential on-the-court movement, volleys, serves, returns, and drop shots. Then practice and improve techniques with 93 drills, each featuring a personal scoring system to gauge and accelerate your progress.

After you master the individual skills, Squash: Steps to Success will show you how to apply them in match situations. From disguise and deception to attacking and defensive strategies, you'll learn to maximize your strengths and dominate the court.
Become a complete player on the court. As part of the popular Steps to Success Sports Series—with more than 1.5 million copies sold worldwide—Squash: Steps to Success will elevate your performance to new heights in all facets of the sport.


Contents

Climbing the Steps to Squash Success
Acknowledgements
The Sport of Squash
Key to Diagrams

Step 1 Proper Grip and Basic Swings
Step 2 Court Movement
Step 3 Moving and Hitting in the Frontcourt
Step 4 Moving and Hitting in the Backcourt
Step 5 Volleys
Step 6 Serve and Return of Serve
Step 7 Boasts
Step 8 Drop and Lob Shots
Step 9 Kill Shots
Step 10 Disguise and Deception
Step 11 Match Play
Step 12 Advanced Tactics
Step 13 Conditioning for Squash

Glossary
About the Authors
List of key contacts

Delivery

We ship worldwide and offer a range of delivery options. Delivery charges depend on your delivery country. View our Delivery Information page for full details.

Returns

Tennisnuts.com makes every effort to ensure each customer experiences a flawless shopping experience. Sometimes you may wish to return your order for which you may need to refer to our simple returns policy.