Yonex All England Open Store
Welcome to our Yonex All England online shop. Here you will find our collection of the best badminton equipment featured at the Yonex All England Championships in Birmingham. The prestigious event is the ideal stage for players of the biggest brands in badminton to showcase the best products. If you've seen something at the event, you'll very likely find it here, and if you can't make it to Birmingham, this is a great place to stay updated with the latest releases in Badminton.
Thanks to our long-standing relationship with Yonex, we also have early access to some of the most coveted products that will be showcased by the world's leading players at the tournament, such as the new Yonex Astrox 88 S and 88D badminton rackets, and the striking new 10274EX top, which will be worn on-court by World No.1's Kevin Sanjaya Sukamuljo and Marcus Fernaldi Gideon.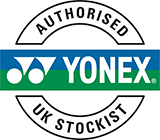 Tennisnuts is an authorised Yonex UK stockist.
Click on the badge or on this link for more information.
Beware of counterfeit rackets on the internet. We have had instances of people bringing in counterfeit rackets for restringing at our store, which look almost like the real thing but go out of shape as soon as you put any kind of tension on the frame.