Lin Dan Collection Equipment & Clothing
The King is Back. Lin Dan and Yonex had a fantastic 2015, culminating in Lin Dan winning the Japan Open for the first time in nine years, his third victory at the tournament. Now, they've combined again to create a stunning new range, Lin Dan II. At TennisNuts, as an authorised Yonex UK dealer, we stock the official Lin Dan II Equipment and Clothing range, including the new flagship Red and White Voltric Z-Force II Lin Dan II editions.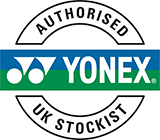 Tennisnuts is an authorised Yonex UK stockist.