Head Womens Club Ann Shorts - Black
Head Womens Club Ann Shorts - Black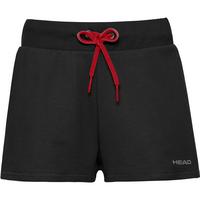 Product code: 814439-BK
This item is currently out of stock.
The go-anywhere shorts from Head. Would transition easily from the tennis court to a pool party at your club! The Head Womens Club Ann Shorts feature an elasticated waistband with drawcord adjustment to help provide the perfect fit.

Colour: Black

The court, the beach, the mall - wherever your day takes you, the Club Ann Shorts are designed to fit every occasion. These shorts feature slip-in pockets as well as an elastic waistband and colourblocked drawcord for additional comfort.

ribbed waistband construction with elastic inside
waistband with drawcord adjustment
personalized eyelet
colorblocked drawcord with personalized, transparent tip end
slip in pockets

Delivery

We ship worldwide and offer a range of delivery options. Delivery charges depend on your delivery country. View our Delivery Information page for full details.

Returns

Tennisnuts.com makes every effort to ensure each customer experiences a flawless shopping experience. Sometimes you may wish to return your order for which you may need to refer to our simple returns policy.