How to Choose a Padel Racket
As a sport that has gained popularity relatively recently compared to other racket sports, we often get asked a lot of questions about Padel rackets. The tennisnuts guide on how to choose a Padel racket aims to explain the differences between the numerous Padel rackets available, and why it may or may not be good for your game.
Padel Racket Shape and Balance
Perhaps the biggest difference between Padel rackets are their shape. The shape of the Padel racket affects various other characteristics including the balance, sweet-spot and general playability of the racket. There are three main shapes which Padel rackets come in:
Round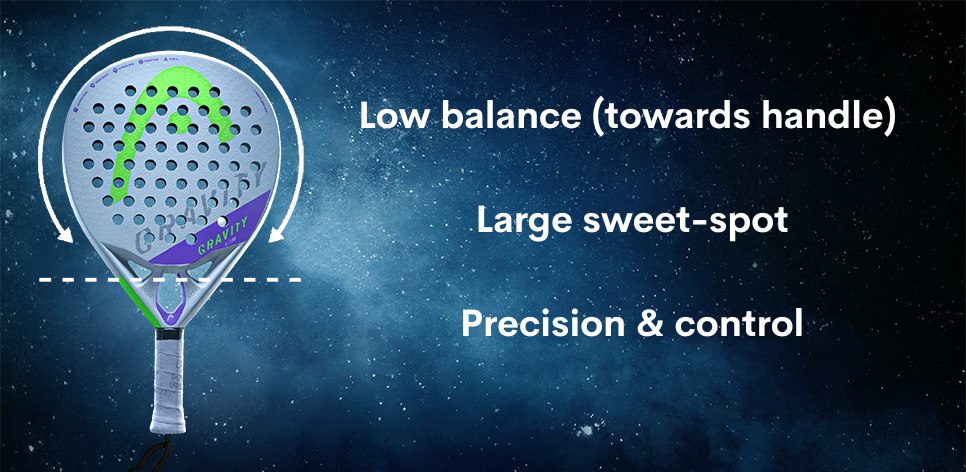 Round shape Padel rackets have a circular head which allows their balance to be closer to the handle of the racket, and the sweet-spot to be larger. As a result they are the most accessible for players to get started and play comfortably. Their characteristics are also suitable for intermediate and more advanced players with a defensive game though it may be more difficult to generate power on smashes. The low balance and larger sweet-spot also helps in avoiding tennis elbow.
Diamond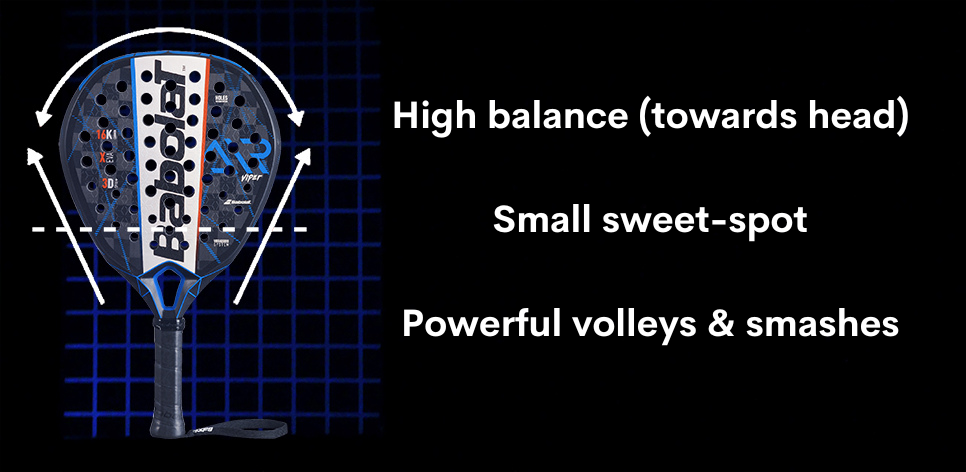 Diamond shape padel rackets are wider at the top and narrow as they approach the handle, creating the 'diamond' shape. As there is more material at the top of the racket, they are more head-heavy than any other shaped Padel racket. This gives them tremendous power on smashes, arguably one of the best weapons in the game of Padel, and are therefore used by countless pro players. Inexperienced players may find it difficult to hit the sweetspot, particularly lower on the head where the racket narrows, and may find continuously swinging the head-heavy racket to be tiring.
Teardrop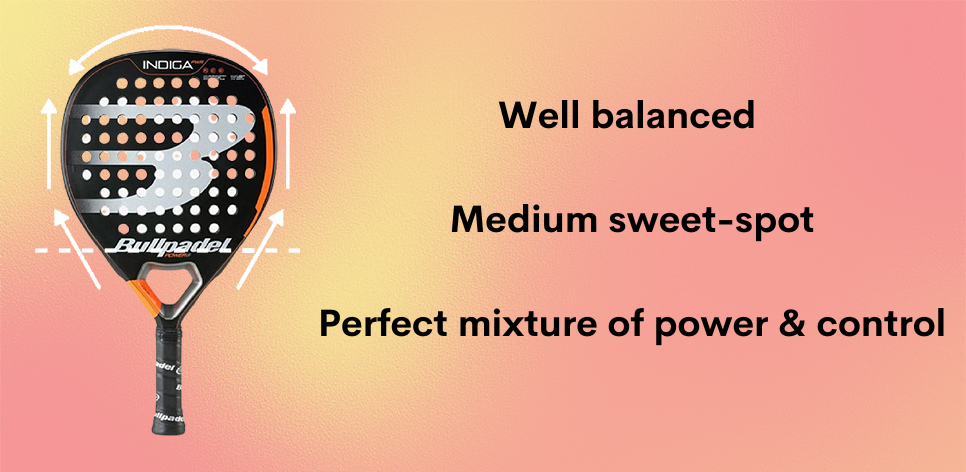 Teardrop Padel rackets have a shape somewhere in between a round and diamond shape to try and get the best of both rackets. Being more powerful than round shaped rackets and more forgiving and accessible than diamond shaped rackets, teardrop Padel rackets have become the best choice for intermediate players, as well as players who prefer an all-round mixed game, neither too defensive or offensive.
Padel Racket Weight
Padel rackets weights usually range between 340 and 390 grams. Similar to tennis, light rackets are easier to manoeuvre and swing, while heavier rackets allow physically strong players who can swing them effectively to use the weight to strike the ball harder and with greater control.
The racket weight that will be right for you will depend mainly on your physical strength and as a general rule you should pick the heaviest racket you would be comfortable using throughout a match. It should also not be so heavy that you are unable to prepare and take your swing in time.
Padel Racket Material:
The first consideration is the material of the racket, which will greatly affect its performance, characteristics, and price. Any Padel racket is made using key components: the frame, handle, core, impact surface and the dampener/protector.
Core Material
The core of a Padel racket cannot be seen, but it is usually made with either Foam (Polyethylene), or E.V.A. (Ethylene Vinyl Acetate).
Padel rackets with Polyethylene foam are easier to play with. As they are softer, players can get more contact time with the ball and it creates a spring effect which makes it easier to generate power. This can be beneficial for beginner and intermediate players who have not fully developed their technique, or for older players who may struggle to generate the necessary power using their body. Padel racket cores made with Polyethylene (Foam) are also generally more affordable.
Padel rackets made with E.V.A. have a harder feel and are less flexible. They are more difficult to play with, though intermediate and advanced players who have mastered their use may use the characteristics to their advantage in competitive play. As a result E.V.A. is usually present in the more advanced and expensive Padel rackets.
Impact Material
The material which covers the surface of the Core:
Fibreglass is cheaper but heavier and gives a softer feel.
Carbon/Graphite is a harder material with a harder feel better durability.
Frame Material
The material used in the frame is usually either fibreglass or carbon/graphite.
The advantage of carbon/graphite is that it is a high quality material which is relatively light-weight. While Fibreglass is heavier, it costs less and is therefore common in beginner and intermediate rackets.
So which material is better?
The material of the racket will have a significant impact on the rackets performance. Different materials are used for different rackets as they are designed for different types of players. Your choice should depend on how experienced or inexperienced you are and how often you play. For example, advanced players may find foam and fibreglass rackets to fall short of their expectations while beginners may struggle with a professional E.V.A Padel racket.