Please note that to comply with our trading terms with Asics, these shoes cannot be shipped outside the EU.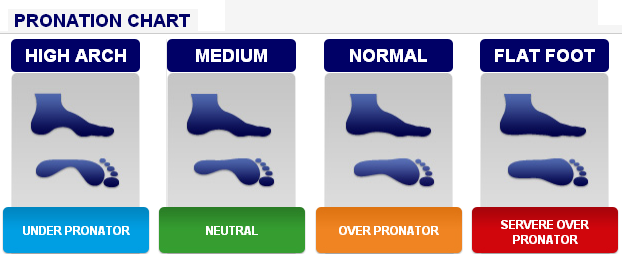 Pronation is the natural inward roll of the foot as the outside part of the heel strikes the ground. This roll acts as a shock absorber for the leg and body, optimally distributing the force of the impact of the heel hitting the ground. Overpronation is when the feet roll inward too much and underpronation (or supination) is where the feet don't roll inward enough.
Once you know which running style you are then the only decision left to make is which ASICS running is best for you. With a wide range of product and technologies this can sometimes make this decision very hard. The most important factor is choosing from the correct category depending on your running style and then the other factors may be determined by price, colour etc.
In the core range there are 3 categories of ASICS running shoe, these are, Cushioning, Structured Cushioning and Maximum Support. The main difference between the 3 categories is the amount of support the shoes will offer your foot. The Cushioning range offers very little support, whereas, as the name suggests, the Maximum Support range offers the most support. The Structured Cushioning range offers an amount of support in between the other 2 ranges.
Once you know your running style and the amount of natural support your foot has then you will be able to determine the category of ASICS running shoes you need to choose from. If you are an Under Pronator or Neutral runner with good natural support then you will need a shoe from the ASICS Cushioning range. If you are a mild/moderate Over Pronator with poor natural support then you will need a shoe from the ASICS Structured Cushioning range. If you are a severe Over Pronator with very poor natural support then you will need a shoe from our Maximum Support range.
Within the 3 categories of ASICS running shoes there is a further choice to be made. There are a number of shoes within each category and they differ in terms of the amount of ASICS technologies in them. As you go from the entry level product to the more expensive shoes in each range you will find added features and benefits which will improve things such as cushioning, shock absorption, fit and stability. All of these added features will benefit your running by making it more comfortable and improving the efficiency but your decision made be made on personal factors such as price and design.