Wilson Grips & Dampeners

Wilson make some of our most popular grips, dampeners for all racket sports, especially Tennis, Badminton and Squash. Check the bottom of the page for ratings by Comfort, Absorbency, Feel and Tack level for Wilson overgrips and replacement grips. Other items include Lead tape and Stencil ink.
The FEEL range of overgrips include Pro Overgrip perforated and Pro Overgrip Sensation. The FEEL range of Replacement grips include Sublime, Cushion Aire classic contour and Premium Leather. You can really feel the racket handle and get sensations back from the racket with these grips. Generally super thin or with perforations.
The COMFORT range of overgrips include the classic Pro Overgrips, which are favoured by the worlds best players including Serena Williams and Roger Federer. Choose profile ones for extra tack and grip. Comfort replacement grips include Cushion Aire Classic sponge, Shock shield hybrid and Cushion pro.
The ABSORBENT range of overgrips include the Advantage and Pro Soft overgrips. Absorbent range replacement grips include the Cushion Aire classic perforated and the Micro-dry + comfort.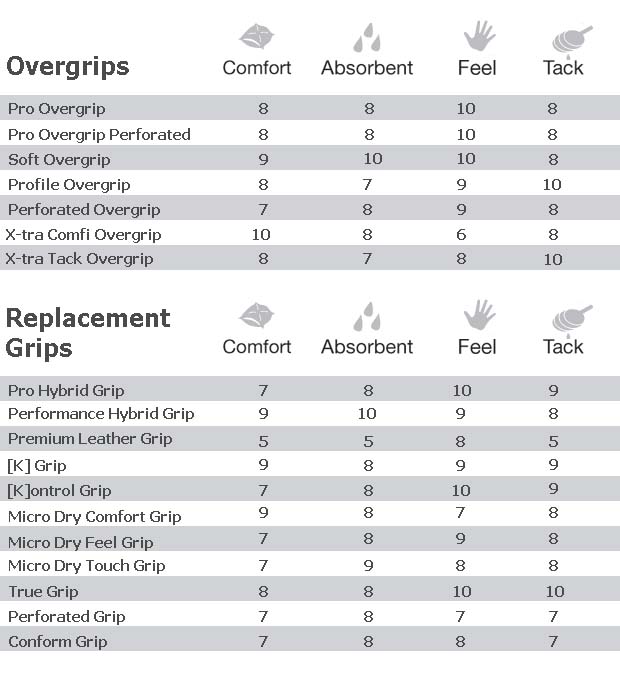 Developed for players with arm discomfort, new Shock Shield string has a gel filled core which helps reduce shock and vibration. The construction eases tension for complete comfort and control for the avid or recreational player. The string works in combination with the new Shock Shield Hybrid grip, as well as the Shock Shield vibration dampener, made with IsoZorb Gel for maximum comfort. Shock Shield is a great system for players looking for comfort and feel in all of their tennis accessory products.