Racketball Instruction Book - Steps to Success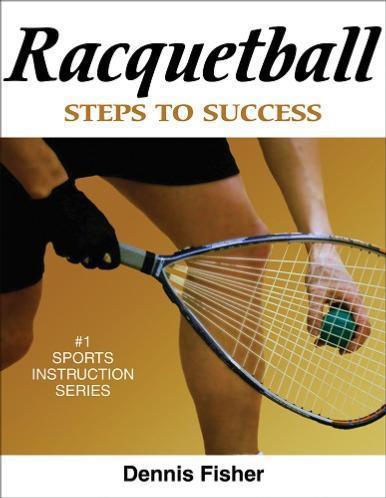 Racketball Instruction Book - Steps to Success
Paperback. 208 pages. ISBN-13: 9780736069397

Master the shots and strategies to control centre court and win points. Racquetball: Steps to Success features expert instruction, clear photographs, 3-D court diagrams, more than 80 drills, and a proven system for improving your game.

Stroke mechanics for the forehand and backhand and more than 35 shots, including serves, serve returns, and front-wall, side-wall, ceiling, and back-wall shots, are covered and illustrated.

Learn when finesse trumps power, why a risky kill shot may be a better choice than a high-percentage ceiling shot, and what shots will move you into—and your opponent out of—the critical centre court position.

As part of the popular Steps to Success Sports Series, with more than 1.5 million copies sold, Racquetball: Steps to Success covers it all to give you the tools to rule the court!

Contents

Step 1. Forehand
Step 2. Backhand
Step 3. Serve
Step 4. Return of Serve
Step 5. Front-Wall Shots
Step 6. Side-Wall Shots
Step 7. Ceiling Shots
Step 8. Back-Wall Shots
Step 9. Court Positioning
Step 10. Shot Selection
Step 11. Game Management
Step 12. Doubles, Cutthroat, and Outdoor Court Games

About the author:

Dennis Fisher is head coach of the Brigham Young University racquetball team, which has won four combined-team and eight women's-team national collegiate championships during his tenure. He is a certified level II coach through the American Professional Racquetball Organization (AmPRO) / International Professional Racquetball Organization (IPRO), an AmPRO / IPRO professional instructor, a United States Racquet Stringers Association racquet technician, and a Wilson racquet technician.

In 1999, the U.S. Racquetball Association (USAR) and the United States Olympic Committee (USOC) named Fisher Developmental Coach of the Year; and in 2006, Volunteer Coach of the Year for Racquetball. He is a member of Wilson's Racquetball Advisory Staff and past chairman of the USRA Intercollegiate Council.

Fisher also has a company that specializes in coaching, training, and instructing racquetball at all levels. He has played racquetball for almost 40 years, competing at the Open level nationally and internationally.

In his spare time, Fisher likes to cycle, fly fish, snow ski, snowboard, and guide canyoneering trips.

Delivery
We ship worldwide and offer a range of delivery options. Delivery charges depend on your delivery country. For full details of our delivery policy, click here.

Returns
Tennisnuts.com makes every effort to ensure each customer experiences a flawless shopping experience. Sometimes you may wish to return your order. Tennisnuts.com has a simple returns policy which can be read here.