DuraSoft Universal / Tennis Elbow Wrap with Ice Inserts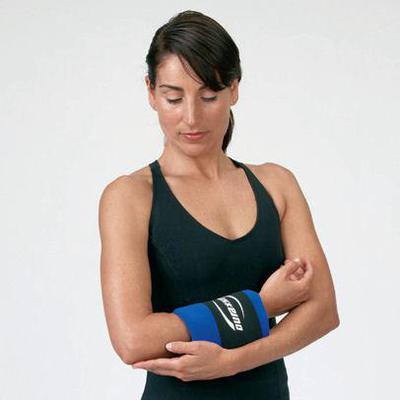 DuraSoft Universal / Tennis Elbow Wrap with Ice Inserts
The universal design provides extended cold therapy to various areas of the body to help reduce pain and swelling and speedy rehab. Can be used on wrist, elbow, calf, neck or other areas. We have found from experience that this is a fantastic device in the on going treatment and relief from tennis elbow

Features Benefits:

Removable DuraSoft inserts allow for continuous cryotherapy
Long term cold therapy with DuraKold
Even adjustable compression with contact closures
Comes with 2 Ice Inserts

DuraSoft® by Donjoy is a unique blend of segmented, body conforming pillows of water combined with a non-toxic soft gel, enclosed in polypropylene bags. When frozen, the water pillows function as actual ice providing long term cold at safe temperatures. An absorbent powder is mixed with water to provide a soft component that allows superior coverage, compression and comfort for cold applications. Can also be used for acute, chronic or post surgical applications.

Delivery
We ship worldwide and offer a range of delivery options. Delivery charges depend on your delivery country. For full details of our delivery policy, click here.

Returns
Tennisnuts.com makes every effort to ensure each customer experiences a flawless shopping experience. Sometimes you may wish to return your order. Tennisnuts.com has a simple returns policy which can be read here.