Aircast A60 Ankle Support
FREE DELIVERY on orders above £50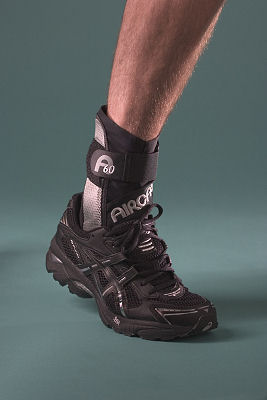 Aircast A60 Ankle Support
FREE DELIVERY on orders above £50
This is the model Andy Murray uses for ongoing everyday semi-rigid support.
Created with the athlete in mind, the A60 provides a winning combination of effective support and protection, comfort, and simplified application. The patent pending design incorporates a pair of sleek stabilizers located on either side of the ankle. These stabilizers are moulded at a 60 degree angle to help guard against ankle sprains and prevent rollover. Manufactured from Breath-O-Prene® material, the A60 ensures that the wearer stays comfortably cool and dry, while the light-weight anatomic design easily fits in athletic footwear without creating additional bulk. The A60 is applied and adjusted with a single strap that securely holds it in place; replacing time-consuming lacing.
The A60 model is perfect for everyday support for sports strains and injuries as it allows training and playing support.
The A60 model is available in three sizes: small, medium, and large, with left and right models.
SMALL would suit up to shoe size UK 6.5
MEDIUM would suit up to shoe size UK 7 TO 10.5
LARGE would suit up to shoe size UK 11.5 +plus

Andy Murray has started wearing one of these on his right ankle as well (May 2011) to go with the one he has been wearing on and off for years...unfortunately the white model he wears is not available in the UK. It certainly does the job though !
If it's good enough for Murray.....

Delivery
We ship worldwide and offer a range of delivery options. Delivery charges depend on your delivery country. For full details of our delivery policy, click here.

Returns
Tennisnuts.com makes every effort to ensure each customer experiences a flawless shopping experience. Sometimes you may wish to return your order. Tennisnuts.com has a simple returns policy which can be read here.