Yonex Badminton Rackets
We offer a FREE String Upgrade on selected Made in Japan Yonex Badminton Rackets and a Half-Price String Upgrade on all other full graphite Yonex Badminton Rackets!
As the premier authorised Yonex UK stockist, we stock almost all Yonex badminton rackets, often with exclusive early access for our customers. This also means that all of our Yonex Badminton Rackets are 100% genuine, coming directly from Yonex, so that you know that you will always be guaranteed a genuine Yonex product when you order from tennisnuts. We offer competitive, low prices and fast, reliable UK and International Delivery, and offer our customers the chance to get their Yonex badminton rackets with a string upgrade and often free grips, so that when you receive your racket, you can start playing with it immediately.
Having dominated badminton for decades, Yonex have a long and proud heritage when designing and producing the best badminton rackets. Still the undisputed leader in terms of quality, sales and performance, we believe that it is no surprise that Yonex rackets are the most popular choice for professionals and club players throughout the world. Yonex also sponsor the world's most famous players such as Lin Dan, Lee Chong Wei, Viktor Axelsen, Carolina Marin, Ratchanok Intanon, Kevin Sukamuljo, Marcus Gideon and Lee Yong Dae, making Yonex badminton rackets the choice of champions.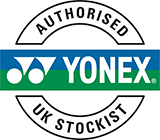 Tennisnuts is an authorised Yonex UK stockist.
Click on the badge or on this link for more information.
Beware of counterfeit rackets on the internet. We have had instances of people bringing in counterfeit rackets for restringing at our store, which look almost like the real thing but go out of shape as soon as you put any kind of tension on the frame.