Which Yonex Badminton Racket is best for you ?
Here's a graph that charts current Yonex rackets according to their balance (HEAD-HEAVY or HEAD LIGHT) and behaviour (CONTROL or POWER)
Head Heavy or Head Light Balance:
Choose head heavy rackets for powerful attacking shots, especially on smashes from the back of the court and consistent clears. Choose headlight balance for faster swing and greater control.
Control or Power:
The other scale indicates rackets that "hold" the energy on contact with the shuttle and release it like an arrow allowing pin point accuracy (CONTROL) and on the other end of the scale, (POWER) rackets that distort less on strike for cleaner and more powerful shots.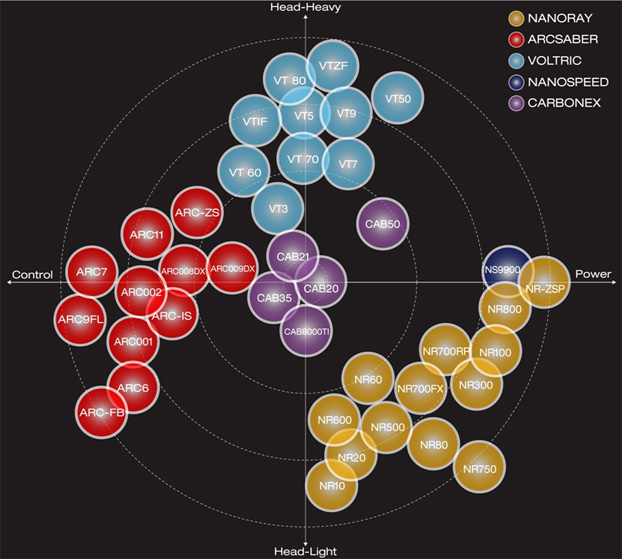 Yonex Racket weight chart:
The weight of Yonex badminton rackets is classified as follows:
For the UK, there is normally no choice available, ie most rackets are either 3U or 4U.
2U: 90-94g
3U: 85-89g
4U: 80-84g
F: 73g (Only ArcSaber FB)

A brief description of the different racket series to help you decide:

Voltric
Voltric rackets combine aerodynamic profile, thin shaft, head heavy balance and Tri-Voltic system in the frame to offer exceptional power as well as speed. Suited for aggressive players who rely on dictating rallies with offensive shots.


Expert Opinion: This is the best all-round range, but offers particular help from the back of the court and is the most comfortable racket to use because of its vibration dampening properties.




Nanoray
Nanoray marks the newest chapter in Yonex's tradition of producing the fastest badminton rackets to match the speed of the sport. The fundamentals of the Nanospeed series are pushed to the next level with the introduction of Aero Frame which is thinner at the top to be more aerodynamic while thicker towards the bottom for increased stiffness and repulsion power.


Expert Opinion: Best bet for fast doubles play as it has a head light balance and has a good range of different stiffness levels to suit a wide variety of different styles and abilities.



Arcsaber
Arcsaber rackets are modelled around "Cupstack Nanotube", a material that allows racket to hold the energy on impact and release it like an arrow to make for powerful but precise shots. Suited for all-rounders who rely on accuracy as well as power to finish off points.


Expert Opinion: This range is perfect for all round power and accuracy for singles play. The balance is mainly EVEN overall. The range is quite stiff and will suit advanced players at both singles and doubles.





Special Offer Deals and Bargains



Expert Opinion: We are a genuine authorised Yonex dealer. Why would you risk a fake on any bidding type websites?